<!========= Cool Timeline PRO 3.2 =========>
HISTORICAL TIMELINE
Together, Annie and Glynn are committed to maintaining Sims Plastics as one of the most successful plastic supply companies in the area, following the family tradition of honesty and integrity established back in 1979.
40th Anniversary Celebration


"I remember going into Sims Plastics with my Dad when I was a kid; now they ask how my grandson is doing. In well more than 30 years, I have always walked out of their doors satisfied and with a solution in hand or on the way. Their 'can do' lets me get it done."
Greg Blaine
Just Around the Corner...
Sims Plastics has three convenient locations to serve you. Our trucks can deliver your order anywhere within a 20-mile radius of the store. We also offer shipping via local hotshots and freight carriers. We'll get it to you right quick!
Stop in or let us ship to you directly — anywhere in the US!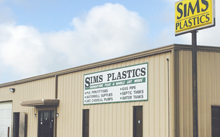 ODESSA
1101 W 42ND ST
ODESSA, TEXAS 79764
Monday - Friday
7:30 AM – 5:30 PM
Sat: 8:00 AM – 12:00PM
432-368-5875
Join Our Team!
Sims Plastics is passionate about helping customers get the right solution for their project with the full attention and help of our friendly, dedicated staff. We believe in honesty and integrity, above all, and acknowledge that our employees are our most valuable asset. If you are interested in joining our team, please contact us at 1-800-456-1054 or email us today.
Come Be a Part of Our Family!
We Proudly Represent
Sims Plastics is proud to carry top brand names at the best available prices, including high-quality PVC, plastic irrigation and septic systems, parts and supplies. Don't see the brand you're looking for? Ask us. We know every name in the business.