A Texas Tradition of Service Since 1979
Welcome to Your #1 Source for
Irrigation and Septic Supplies
Sims Plastics has been meeting the needs of oilfield, residential, commercial, government, wholesale and retail customers since 1979. Our massive inventory, broad selection, quality name brands, knowledgeable sales people and friendly service personnel combine to make Sims your #1 source for irrigation and septic systems, parts and supplies.
Come on in. We've been expecting you!
TRADITION
Sims has been dedicated to a customer-first approach to quality service since Sylvester and Annie Sims first put our sign up back in 1979. Shop with us and find out fast what family-owned pride can add to your project.
SOLUTIONS
Helping you find the exact product and solution to do your project right the first time is what sets Sims apart from the rest. The way we see it, we're your personal just-in-time warehouse and technical support team.
TEAMWORK
Consider it another advantage of working with a family-owned business. We work together, and in most cases, do life together. When you come to us, you're part of the family. And we always take care of our own.
EXPERIENCE
We know the parts, we know the products, we understand your project... just ask. Most of our people have been with us for years. And if not, they've been in the business since they could sip water out of a faucet.
AVAILABILITY
If we don't have it (and we probably do), we'll help you get it... and that's a promise. Our vast inventory and plugged-in network of trusted, reliable vendors assures that, pretty much, you'll always find it at Sims.

"I cannot say enough about how helpful the people are at Sims. Not only do they have all of the items I need, whereas some of the larger stores didn't, I brought in a complicated and unique request and they figured out what I needed and ASSEMBLED it for me!! So generous with their time and so knowledgeable! Highly recommend. Don't go anywhere else!"
Julie Melton
Just Around the Corner...
Sims Plastics has three convenient locations to serve you. Our trucks can deliver your order anywhere within a 20-mile radius of the store. We also offer shipping via local hotshots and freight carriers. We'll get it to you right quick!
Stop in or let us ship to you directly — anywhere in the US!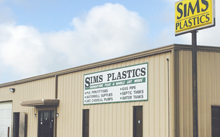 ODESSA
1101 W 42ND ST
ODESSA, TEXAS 79764
Monday - Friday
7:30 AM – 5:30 PM
Sat: 8:00 AM – 12:00PM
432-368-5875
Join Our Team!
Sims Plastics is passionate about helping customers get the right solution for their project with the full attention and help of our friendly, dedicated staff. We believe in honesty and integrity, above all, and acknowledge that our employees are our most valuable asset. If you are interested in joining our team, please contact us at 1-800-456-1054 or email us today.
Come Be a Part of Our Family!
We Proudly Represent
Sims Plastics is proud to carry top brand names at the best available prices, including high-quality PVC, plastic irrigation and septic systems, parts and supplies. Don't see the brand you're looking for? Ask us. We know every name in the business.